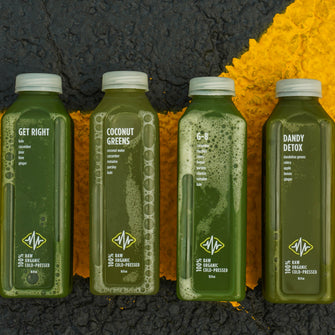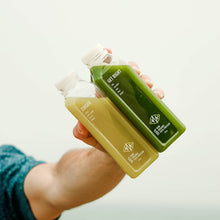 PHYTO // Alkaline
If you prefer a plant-based approach, our PHYTO cleanse is a celebration of the awesome healing power of nature. This cleanse provides deep detoxification, while alkalizing your body's pH, leaving you rejuvenated from the inside out.
The PHYTO cleanse is packed with the most potent plant-based superfoods, providing a rich source of antioxidants and phytonutrients. Variety, taste, satiation, all while flooding your body with a full spectrum of high vibrational nutrients. Expect to feel light, energized & balanced after this cleanse.
DAY 1
Cell Re
Vanilla Mane*
Adrenal Dream
Get Right
Carrot + Fennel Salad
Longevity Broth
Shaman Shake
DAY 2
Dandy Detox
Lionheart*
Adrenal Beach
G-8
Purple Sea Moss
Longevity Broth
Blue Mood
DAY 3
Zinger
DOPA-mint*
Adrenal Greens
Savage
Blue Sea Moss
Longevity Broth
Tiger Eye
DAY 4
Zinger
Lionheart*
Adrenal Sour
Royal Purp
Kill Shot
Longevity Broth
Purple Sea Moss
*Chaga Tea may be substituted for Matcha.
Approx Daily Nutrition: 1200 cals • 120g carbs • 90g sugar • 20g protein • 18g fiber • 45g fat